Description
Automated Dialog Matching Speeds Up Your Workflow
One of the most time-consuming tasks a dialog mixer faces is maintaining consistent sonic profiles to ensure dialog looks, feels, and sounds natural. It can be a tedious process, matching frequencies, reverbs, and ambiance between takes and scenes. But, combining iZotope's machine learning and Exponential Audio's advanced reverb technology, Dialogue Match simplifies and expedites the process. Whether the goal is to align the ambient character of lavalier and booms mics or to place ADR realistically into a scene's original audio context, Dialogue Match has you covered. Available as a 64-bit AAX AudioSuite Plugin for Pro Tools, iZotope Dialogue Match is a favorite of post-production experts at Shopitecaudio, and it is sure to become an integral part of your workflow.
Maintain tonal consistency between shots
Mixing engineers familiar with iZotope Neutron's Track Assistant will recognize the machine learning and assistive audio technology that powers Dialogue Match's parametric EQ matching mechanics. Simply capture a reference profile from a piece of dialog with the desired characteristics, and apply it to any another for remarkable tonal consistency. What was once an hours-long process can now be accomplished in a matter of minutes.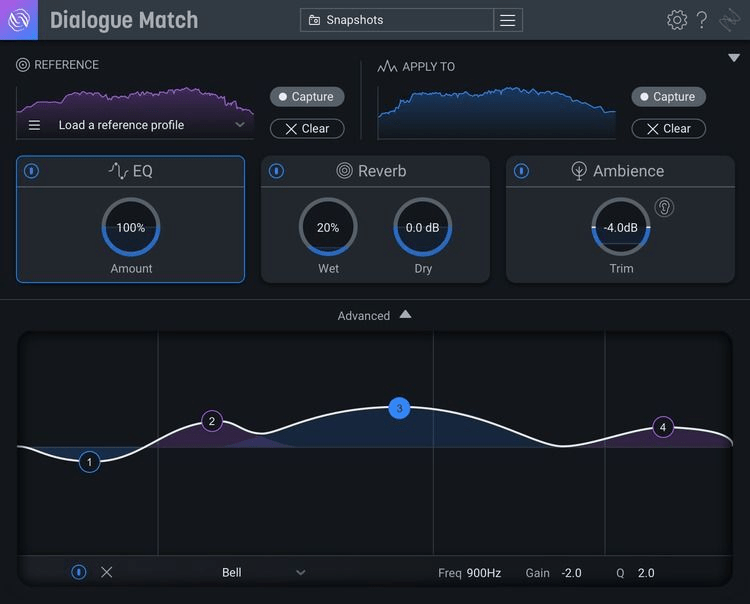 Align dialog with the visual environment
Reverb and ambiance, when properly applied, have a subconscious effect on viewers, drawing them deeply into a scene. If applied poorly, viewers may become disengaged without even knowing why. To ensure a scene's dialog passages align with the visual environment in which they are placed, Dialogue Match uses Exponential Audio's powerful reverb engine and spectral noise analysis. With them, Dialogue Match captures and applies an incredibly accurate digital re-creation of the space to blend dialog shot to shot seamlessly. And for an even faster workflow, you can save learned settings and reference profiles for later application.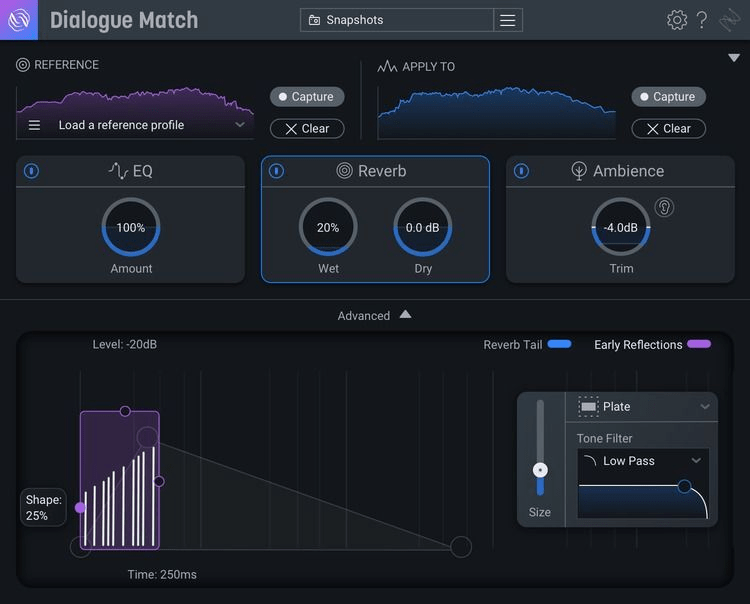 iZotope Dialogue Match Features:
Eliminates time-consuming manual dialog EQ and reverb matching
Draws on iZotope's machine learning technology and Exponential Audio's powerful reverb engine
Maintain tonal consistency with parametric EQ matching mechanics
Align dialog with a visual environment with reverb and ambiance capture
Save learned settings and profiles for later application
Available only as a 64-bit AAX Pro Tools AudioSuite plugin