Description
Apogee's Streamlined 16 x 16 Thunderbolt Interface
If you record music to a Mac, the Apogee Element 88 is for you. The Element 88 is a 16-in/16-out audio interface that takes the best of cutting-edge Apogee gear and packs it into a streamlined, cost-effective unit. The Element 88 gives you eight balanced front-panel analog inputs, two rear-panel XLR outputs plus two balanced 1/4″ outputs, two stereo headphone outs, and word clock I/O. Eight of Apogee's world-class mic preamps are onboard, with selectable phantom power. For expansion flexibility, optical I/O is also provided with ADAT (8 x 8), SMUX (8 x 8), and S/PDIF (2 x 2) compatibility. Apogee's Element Control software gives you remote control of your hardware on your Mac and wireless control via iPhone, iPad, or iPod touch.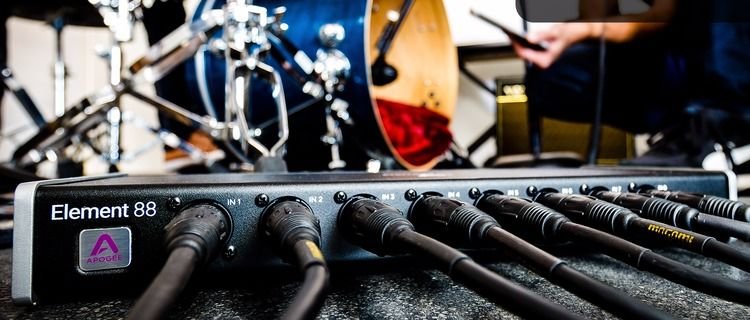 Superior conversion for tracks that blend harmoniously
Top-notch A/D conversion is an essential ingredient for capturing every nuance of your digital recordings. Apogee's Element series interfaces feature high-quality Apogee A/D conversion that minimizes noise and maximizes signal quality, for tracks that sound amazing and sit perfectly in your mix. You'll hear enhanced definition in every track and virtual instrument. Tracks will blend more harmoniously, making precision adjustments — and achieving the perfect mix balance — easier.
Microphone preamps that can do it all
Drums, vocals, guitar, strings, brass — each source places unique demands on your mic preamp. You need a preamp that can do it all, capturing the minute details of every performance. Apogee's Element series mic preamps are engineered with the company's Advanced Stepped Gain Architecture, an analog circuit that dynamically optimizes across a 0-75dB gain range to provide exceptional bandwidth with the lowest possible distortion.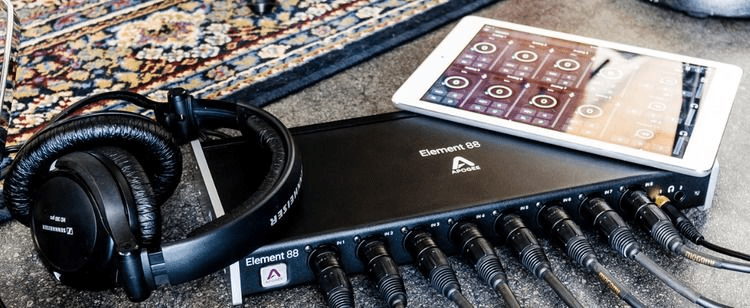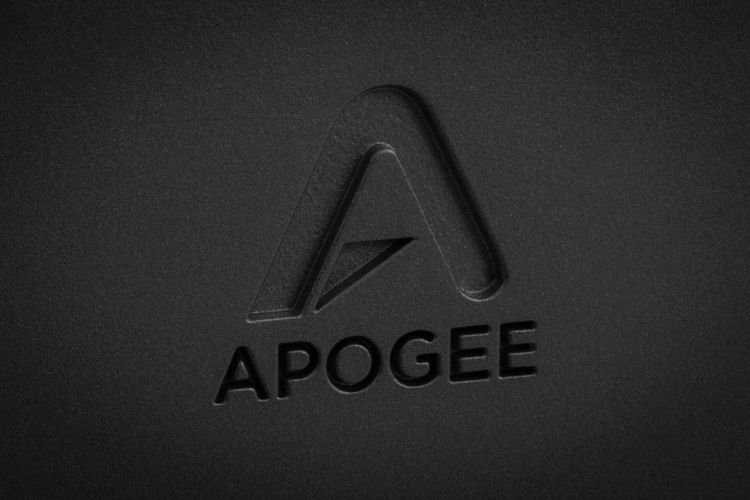 State-of-the-art Apogee clocking
Your audio interface's clock source is like a conductor, meting out tempo to the orchestra. A digital audio clock delivers a timing signal to all parts of a digital audio system, synchronizing every part of the AD/DA process. Every Apogee Element series interface is spec'd with its own onboard clock source that provides pro-studio-grade word clock I/O for syncing with other digital audio equipment. Slave your Element to other gear, or take advantage of Apogee's superior clocking technology, by using your interface as a master clock.
Ultra-low latency Thunderbolt connectivity
Apogee's Element Thunderbolt driver delivers impressive low-latency round-trip performance (1.41ms), along with rock-solid stability. This proprietary driver also draws less CPU power thanks to Apogee's Direct Memory Access (DMA) technology. At Sweetwater, we can confirm that the DMA implementation in the Element series lets you run more plug-ins and monitor through your DAW at low buffer settings. With Apogee Element interfaces, you no longer have to choose between speed and power!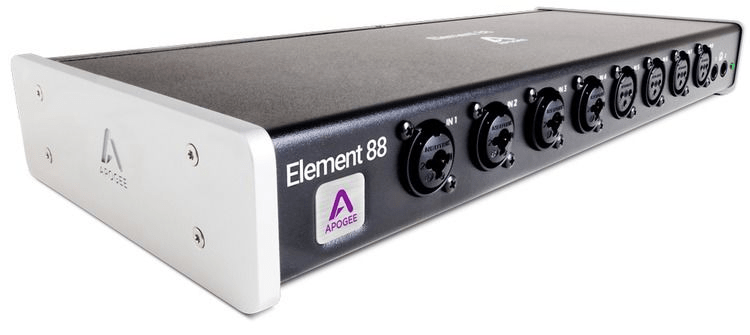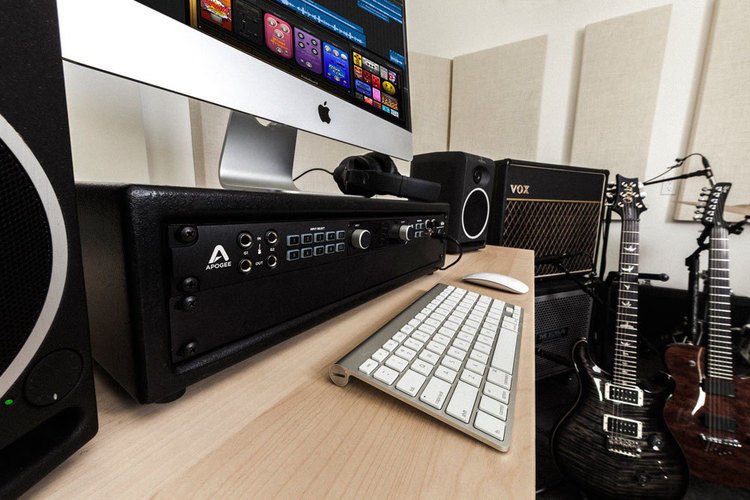 Value-priced expandability for your Ensemble Thunderbolt
Need more I/O for your Apogee Ensemble Thunderbolt? Connect any Element-series interface to your Ensemble Thunderbolt for Ensemble-quality I/O at an incredible price.
Apogee Element 88 Features:
16-in/16-out Thunderbolt audio interface for Mac computers
Up to 24-bit/192kHz AD/DA conversion for recording
4 front-panel mic/line/instrument inputs on combi connectors
4 front-panel mic/line inputs on XLR connectors
8 world-class Apogee mic preamps, selectable phantom power
8 analog outputs: 2 balanced rear-panel XLR outputs and 2 balanced 1/4″ outputs
2 x 1/4″ stereo headphone outputs
Single-port Thunderbolt connectivity with 1.41ms round-trip latency at 96kHz (with buffer setting 32)
Optical In — supports ADAT, SMUX, and S/PDIF: ADAT — 8 channels, 44.1kHz-48kHz on 1 TOSlink connector; SMUX — 8 channels, 88.2kHz-96kHz on 2 TOSlink connectors; S/PDIF — 2 channels, up to 192kHz on 1 TOSlink connector
Optical Out — supports ADAT, SMUX, and S/PDIF: ADAT — 8 channels, 44.1kHz-48kHz on 1 TOSlink connector; SMUX — 8 channels, 88.2kHz-96kHz on 2 TOSlink connectors; S/PDIF — 2 channels, up to 192kHz on 1 TOSlink connector
Word clock I/O (BNC connectors) for sync with other digital audio gear
Element Control Software for Mac provides control of hardware parameters, including Input gain, Output level, and low-latency monitoring
Element Control Mobile App for wireless remote control via iPhone, iPad, or iPod touch
Compatible with optional Apogee Control hardware remote control
Multi-unit Thunderbolt support for connection of any 2 Element units to your Mac
Connect any Element-series interface to your Ensemble Thunderbolt for Ensemble-quality I/O at an incredible price
Direct monitoring feature in Logic Pro X eliminates recording latency