Description
Classic Auto-Tune Pitch Correction and Much, Much More
Antares Auto-Tune EFX+ is your one-stop shop for modern vocal processing. It delivers genuine real-time Auto-Tune pitch correction; but, that's just the beginning. You also get formant shifting, doubling, vintage analog vocoder emulations, tube distortion modeling, ring modulation effects, and a flexible highpass filter. Create melodic patterns and hooks automatically with Auto-Motion. Benefit from lock-tight compatibility with Auto-Key (sold separately). Enjoy real-time parameter control via an XY Pad. Whether you want transparent, natural-sounding pitch correction, the iconic "Auto-Tune effect," or classic vocal production effects, Auto-Tune EFX+ is a valuable tool.
This product uses WIBU CodeMeter for copy protection, but it doesn't require a physical hardware dongle
Achieve industry-standard pitch correction
Auto-Tune EFX+ includes the industry-standard pitch correction that Antares is famous for. Retune Speed and Humanize parameters enable you to tweak the effect from transparent pitch correction to full-blown warbling — the popular "Auto-Tune effect." Auto-Tune EFX+ was designed with real-time use in mind. It exhibits super-low latency, making it suitable for live performance, as well as tracking in the studio.
An entire cache of vocal effects
Whether you want to enhance a pitchy voice or completely mangle a vocal track, Antares Auto-Tune EFX+ puts an entire cache of vocal effects at your fingertips. This plug-in's six effects modules can be manipulated in real-time via an XY Pad. What's more, you get a library of multi-effects presets designed by industry professionals, Mike Dean, Jeff Rona, and Richard Devine. The engineers here at Sweetwater have discovered a wide range of interesting effects combinations lurking in Auto-Tune EFX+.
Included Effects:
Pitch — Real-time pitch shifting.
Throat — Real-time formant shifting.
Vocode — Vintage analog vocoder emulations.
Tube Amp — Tube distortion modeling.
Mutate — Ring modulation effects.
Filter — Highpass filter.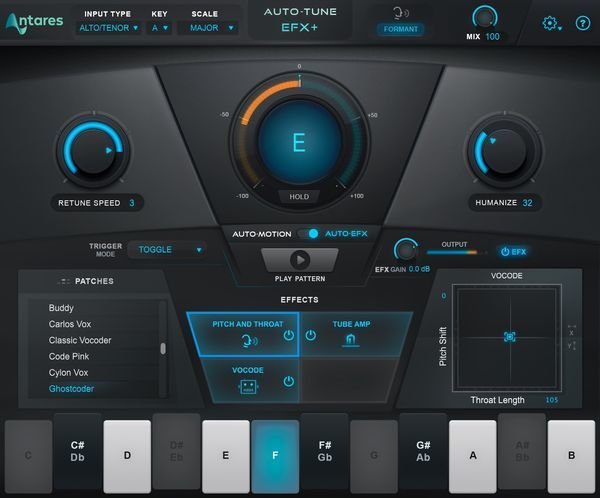 Create exciting melodic patterns
Fire up Auto-Tune EFX+'s Auto-Motion melodic pattern generator, and you're in for an inspiring treat. With it, you'll create exciting melodic patterns and hooks by randomly pitch-shifting your original vocal or instrument track. Its built-in graphical display shows you a preview of the notes contained in the pattern. And if you want to enjoy spontaneous fun, throw it into Auto Trigger Mode, which automatically triggers pattern playback when an incoming pitch is detected — no other interaction is required!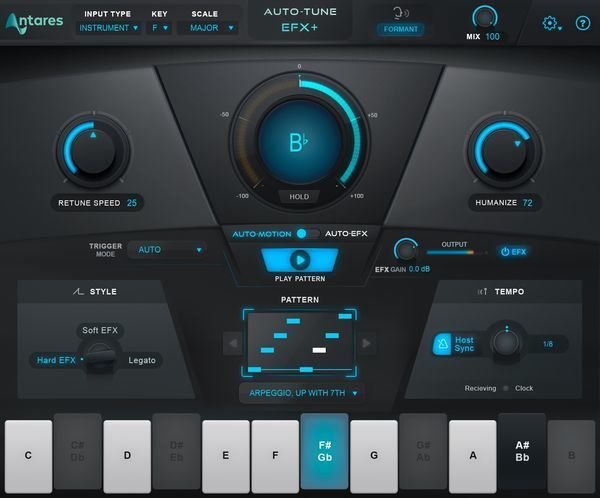 Antares Auto-Tune EFX+ Features:
Vocal multi-effects with natural-sounding pitch correction, the iconic "Auto-Tune effect," and classic vocal production effects
Genuine real-time Auto-Tune pitch correction with super-low latency
Vocal effects, including formant shifting, doubling, vocoding, tube-style saturation, ring modulation effects, and filtering
Auto-Motion creates melodic patterns and hooks automatically
Lock-tight compatibility with Auto-Key (sold separately)
XY Pad provides real-time parameter control over effects
Library of multi-effects presets designed by industry professionals