Description
Blue Mix-Fi:You've Never Heard Headphones Like These!
Blue has a history of making groundbreaking, high-quality microphones that deliver uncompromising sound, and when they apply their expertise into headphone design, the results are always impressive. Taking the concept of purpose-built onboard amplification — as used in monitor speakers — Blue's Mix-Fi does the same for headphones. The Blue Mix-Fi's built-in audiophile amplifier and high-powered drivers make for amazing accuracy and a totally immersive, life-like listening experience. In the studio, at FOH, or at home, you'll appreciate how the Blue Mix-Fi's generous headroom and outstanding sound isolation lets you hear your music with crystalline clarity. At Sweetwater, we're impressed with the innovation that's gone into Blue's Mix-Fi — and the impressive sound.
Onboard amplification for impressive monitoring accuracy
Remember when studio monitor speakers were passive? No great loss. Active speakers have done wonders for monitoring accuracy. And so it is with Blue Mix-Fi headphones. With an audiophile-quality onboard amplifier and perfectly-matched precision drivers, the Mix-Fi has revolutionized monitor headphone design by delivering output that's stunningly true to the input for studio-grade sound — even on your mobile devices. If you want to pump up the bottom, though, Blue Mix-Fi gives you an enhanced bass mode (along with active and passive settings), so you can optimize any listening situation. Headphone design will never be the same.
Blue Mix-Fi lets you control the bass
Unlike other headphones that put more bass in your face whether you want it or not, Blue Mix-Fi lets you choose the right sound for your music. No DSP tricks here — this is analog. Whether you're listening to '70s-era rock, modern pop, orchestral, hip-hop, or something else, you'll have total control over your listening experience.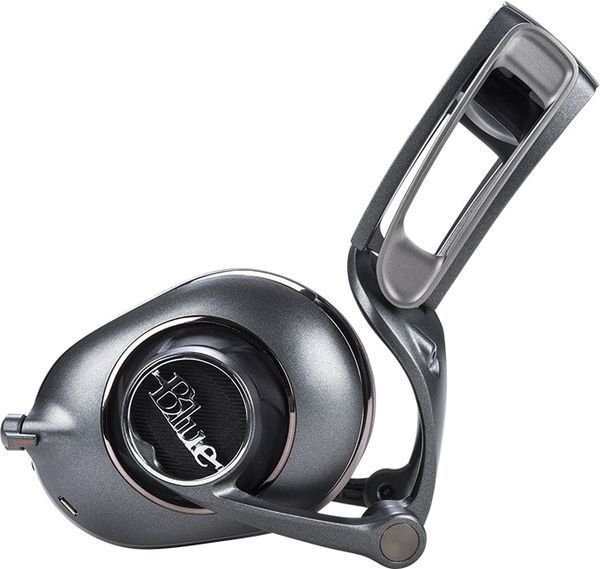 Sound that's way beyond earbuds
If you're listening to music on your iPod, iPhone, or another personal music player, you're missing out on the full dynamic range and frequency response of the music. These underpowered devices simply can't drive a strong enough signal through earbuds. That's where the Blue Mix-Fi's integrated amplifier comes in. It delivers an astonishing listening experience that you have to hear to believe.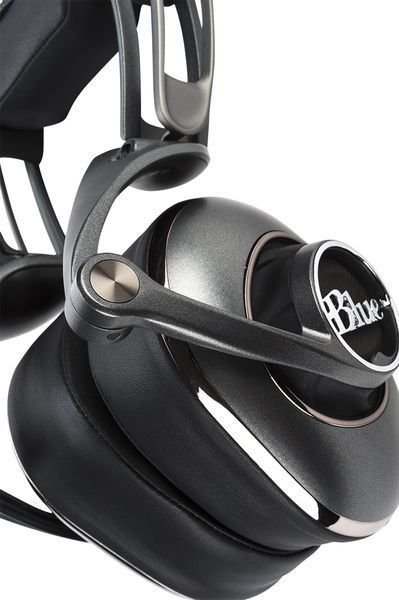 Ergonomic fit gives you cushy comfort during marathon sessions
The Blue Mix-Fi is no ordinary headphone. From a technical standpoint, the Mix-Fi's clearly a game changer. But when you first try them on, you'll be thrilled that Blue paid just as much attention to their physical design. From their innovative multi-jointed design, to earcups shaped like — well, ears, Blue has thoroughly reimagined headphone form factor and functionality. Blue fitted Mix-Fi with a multi-jointed headband, earcups that ergonomically float into place, and an adjustable tension knob that lets you effortlessly dial in your ideal setting — not too loose, not too tight, but just right. Blue Mix-Fi gives you extreme comfort that other headphones simply can't.
Smart power management keeps Mix-Fi ready for action
Mix-Fi's intelligent design saves on battery life, ensuring that your 'phones are always ready for action. Mix-Fi knows when you've stopped listening and automatically powers down to save juice. The battery charges in three to four hours and gives you around 12 hours of playtime. And even if the battery runs out, Mix-Fi will continue to operate in passive mode.
Blue Mix-Fi Powered High-fidelity Headphones Features:
Custom high-powered audiophile amplifier
50mm titanium-reinforced ultra-responsive dynamic drivers
Sealed over-ear design for superior isolation and feedback prevention
User-adjustable tension and suspension adapt to any head shape and size for a perfect fit
Race car-inspired multi-joint headband design keeps earcups parallel at all times for superior comfort and sound
All-analog amplifier performance modes: active, enhanced bass, and passive
Powers on and off automatically when headphones open and close
Rechargeable battery provides up to 12 hours of playtime
Mix-Fi continues to play music even when battery has no charge
Join the powered headphone revolution with Blue's Mix-Fi!