Description
Transform Your Mix into a Great-sounding Master
With the Eventide Elevate Bundle in your mastering toolbox, you'll no longer need to compromise sound quality to achieve a loud mix. Described as "the surgeon's scalpel of plug-in limiters," Newfangled Audio's Elevate increases the loudness of your mix while maximizing its dynamic perception. This adaptive multiband limiter responds to your music in real time, analyzing 26 frequency bands and altering their gain, speed, and transients. The Elevate Bundle also includes the EQuivocate paragraphic EQ, which employs filters modeled on the human ear, resulting in an incredibly natural sound. Complete with linear-phase filters, a Spectral Clipper, and six different types of metering, the Elevate Bundle will transform your mix into a great-sounding master.
This product requires that you have an iLok account for authorization, although it does not require a physical iLok key. 
A limiter that listens to your music
Newfangled Audio's Elevate is a powerful mastering tool — at Sweetwater, we're impressed by its advanced capabilities. It employs a unique multiband limiter, human-ear EQ, and audio maximizer to increase the loudness of your mix. But unlike many brickwall-type limiters, Elevate doesn't squash your mix. In fact, it improves its tonal balance, making it sound better. This innovative plug-in analyzes 26 frequency bands in real time, using intelligent adaptive technology to sculpt it into a finished master. These bands are modeled on the human ear and supply you with complete control over how the sound hits your eardrum. You can draw curves, solo bands, and manipulate each band's transient attack to bring out specific instruments. And no matter how hard you push it, Elevate delivers transparent, natural sound.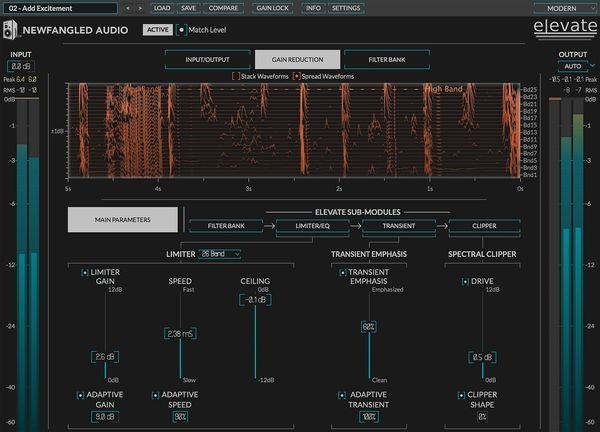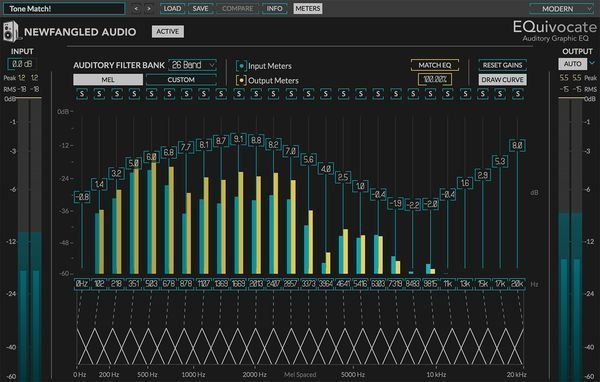 Human-ear EQ for natural-sounding frequency shaping
The Elevate Bundle also includes Newfangled Audio's EQuivocate. Like Elevate, this paragraphic EQ employs human-ear filters, allowing you to sculpt your sound according to how you hear. The result sounds incredibly natural and transparent. EQuivocate is a linear-phase equalizer, eliminating the smearing and phase issues that can result with minimum-phase EQs. EQuivocate is guaranteed to become an important element of your mastering toolset.
Spectral clipping that doesn't affect your tonal balance
You also get Newfangled Audio's Saturate module. This spectral clipper algorithm uses two simple controls that unlock a sophisticated processing engine. Use it to thrust your signal into overdrive, and push it as hard as you want — its tonal balance will remain intact. Add up to 12dB of clipping, using Saturate's variable shape parameter to morph between a smooth curve and hard clipping. Whether you use it to overdrive individual tracks or your entire mix, Saturate is a great way to inject excitement into any signal.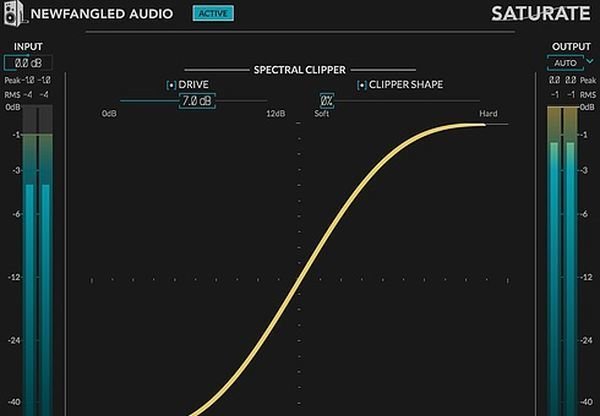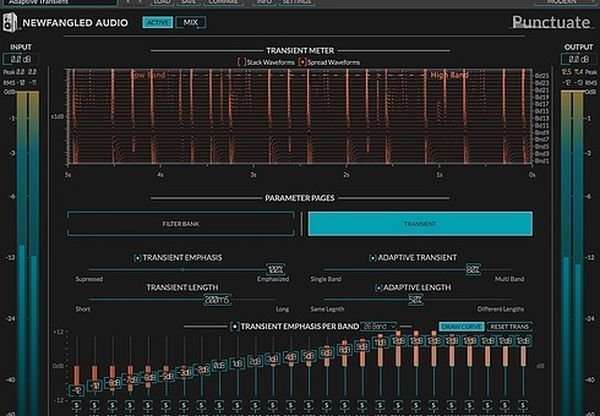 Take command of your transients
Use the Elevate Bundle's Punctuate module to take command of your transients. This multiband transient modulator is based on the critical bands in the human ear. And it's easy to use — you can emphasize or suppress transients in all 26 bands using just four controls. Whether you use it to rescue an overcompressed mix or to give a signal more punch, Punctuate is sure to become an indispensable part of your toolbox.
What the pros are saying about Elevate:
"I'm really loving Elevate, using it on almost every mix now. The transient processing is genius!" — Andrew Scheps (Red Hot Chili Peppers, Adele, Green Day, Beyoncé)
"I really like Elevate. It has a somewhat unique sound to it, which is a great addition to my limiter toolset." — Adam Ayan (Paul McCartney, Katy Perry, the Rolling Stones, Bruce Springsteen)
"It's the best limiter I've ever used." — Matt Lange(deadmau5, BT)
"The surgeon's scalpel of plug-in limiters. It opens up a world of control and sound shaping options…Even with deep limiting, it keeps the pulse and musicality intact." — Alex Saltz (Vampire Weekend, Moby, the Raconteurs)
"I'm mastering some songs at 96k and it performs like a dream…the multiband transient enhancements and the Spectral Clipper for electronic stuff is sick!" — Sebastian Arocha Morton (Sting, Seal, Santana)
"Elevate is so precise and so musical when it's really working hard and being pushed." — Jeremy Lubsey (Frank Ocean, Allan Kingdom, Tank and the Bangas)
"This is a KILLER limiter! It really can sound transparent and clean while making a mix loud." — Don Gunn (Death Cab for Cutie, Peter Frampton, King Crimson)
"I'm really impressed with Elevate, it's kind of an unbeatable limiter with regard to being able to make things super loud, punchy, and not distorted." — Brian Trifon (Halo Wars 2, Halo: The Master Chief Collection, Massive Chalice)
"This thing is dangerous and fun!" — Eric Beam(Chief engineer at Formosa Santa Monica)
"This is my new go-to mastering plugin, I often use nothing but Elevate for an entire album!" — John McCaig (Bitcrush, Seapony, Sufjan Stevens)
Eventide Elevate Bundle Features:
Mastering plug-in bundle with Elevate adaptive multiband limiter and EQuivocate paragraphic EQ
Responds to your music in real time, analyzing 26 frequency bands and altering their gain, speed, and transients
Frequency bands are modeled on the human ear for complete control over how the sound hits your eardrum
Increases the loudness of your mix while maximizing its dynamic perception
Preserves or emphasizes fast transient to avoid squashing your mix
Automatically adapts attack, release, and look-ahead to reduce pumping and breathing artifacts
Draw curves, solo bands, and manipulate each band's transient attack to bring out specific instruments
Auto Output Level for comparing limited signals to non-limited signals with the same amount of gain
Spectral Clipper overdrives the final output for a more aggressive sound without affecting your tonal balance
6 different types of metering for keeping an eye on every aspect of your sound
Linear-phase filters eliminate smearing and phase issues
Includes presets by APS Mastering, Matt Lange, Jeremy Lubsey, Eric Beam, ROCAsound, Chris Tabron, and John McCaig