Description
Record Wirelessly to Your iPhone or iPad
Capture ideas effortlessly whenever or wherever inspiration strikes with iZotope's Spire Studio and its companion iOS or Android app. The Spire Studio is a versatile hardware iOS/Android interface/recording system that communicates wirelessly with your iPhone, iPad, or tablet. The key to the Spire Studio is that it's so easy to record with that you won't lose your ideas. Set your levels with the Soundcheck button, use the onboard mic, and lay down your music. Or plug up to two of your favorite microphones into the Spire Studio's Grace Design noiseless preamps. Do you need to layer takes? You get up to eight tracks that you can polish to perfection with the Spire Studio's built-in effects. And when you're done, you can edit, mix, and export with ease.
Capture your ideas with studio quality
Capturing your song ideas has never been easier, thanks to the iZotope Spire Studio. For quick recordings, a built-in omnidirectional microphone with iZotope's award-winning processing delivers excellent sound quality. You also get a pair of combo inputs with Grace Design preamps for plugging in your microphones and instruments. Onboard effects, including reverbs, delays, and amp models, allow you to put the final touches on your song. At Sweetwater, we're astonished by the great sound that's packed into this portable recording device!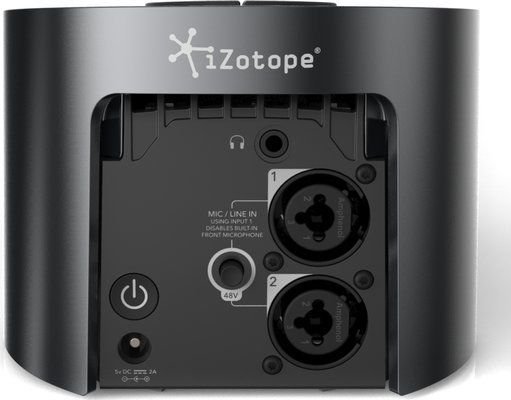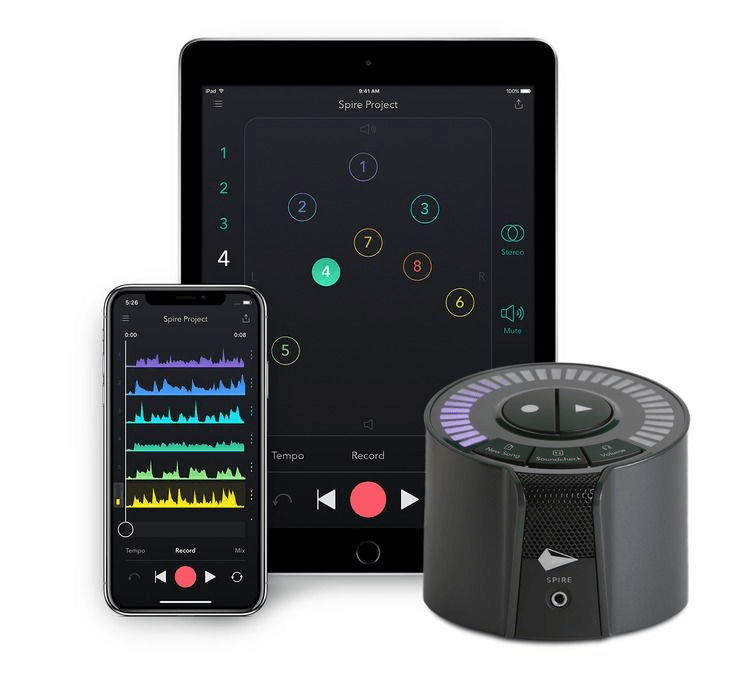 Simple, 1-click recording with your iPhone, iPad, or Android device
The Spire Studio will redefine your expectations for mobile recording. Because it uses an integrated Wi-Fi access point and battery power instead of cables, setup is easy. You don't need to be a recording engineer to operate it either — just set your levels automatically with the Soundcheck feature, hit a button, and you're recording. You can record up to eight tracks (two simultaneously), then edit and mix your song straight from your iPhone, iPad, or Android device. Export your project to your DAW for further editing, or share it to social media. Collaborate instantly by sending tracks and projects to your bandmates.
iZotope Spire Studio Features:
2-in/2-out, 24-bit/48kHz iOS/Android interface
Integrated Wi-Fi access point and 4-hour rechargeable battery for complete portability
Built-in omnidirectional microphone and a pair of Grace Design preamps with phantom power
Soundcheck feature automatically sets your levels
Record up to 8 tracks (2 simultaneously)
Polish your sound with built-in reverbs, delays, amp models, and more
Take control of your project from the onboard LED touchscreen or remotely with the Spire app
Edit and mix your tracks with the app or export them to your DAW for further editing
Share your music on social media directly from the app
Collaborate instantly by sending tracks and projects to your bandmates