Description
The Secret to World-class Vocal Tracks
Want to make your vocal tracks really pop? Then get the iZotope Vocal Bundle. Nectar 3 Plus arms you with six modules of vocal processing, as well as machine learning technology aimed at giving you a pro-produced sound. VocalSynth 2 is packed with five powerful vocal engines that are guaranteed to add a one-of-a-kind sound to your vocals. The iZotope Vocal Bundle will take your vocal tracks to a higher level.
iZotope Nectar 3 Plus
Vocal Processing Plug-in
If you want vocals that sit beautifully in your mix, Nectar 3 Plus is an easy, effective way to make it happen. This indispensable plug-in suite boasts a top-shelf cache of vocal-centric effects modules, including EQ, Harmony, Compressors, Dimension, De-esser, Pitch, Auto Level, Saturation, Reverb, and Gate. But the real magic lies in Vocal Assistant, which uses iZotope's renowned AI-assisted processing to detect and correct a whole slew of hard-to-rein-in vocal problems. Unmask digs buried vocals out of a mix, with EQ Amount and Dynamic controls that ensure extreme ease of use and transparency. You also get built-in Key Detection — a huge time-saver — along with Melodyne 4 essential, which offers powerful, transparent pitch and time correction, and iZotope RX Breath Control, which automatically suppresses breaths in dialog or vocal recordings. If you're struggling to get great-sounding vocals (or simply want to speed up your workflow), Nectar 3 Plus has the cutting-edge vocal processing tools you need.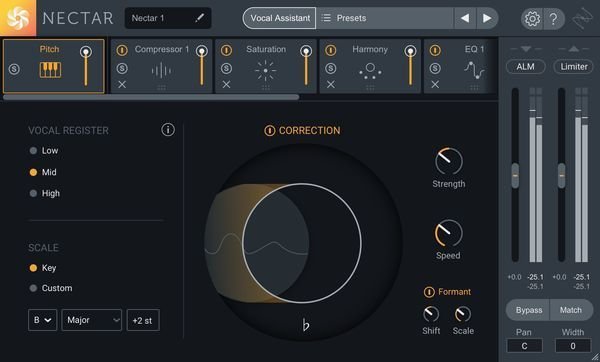 Features:
Vocal processing plug-in with machine learning technology
Main modules include EQ, Harmony, Compressors, Dimension, De-esser, Pitch & Auto Level, Saturation, Reverb, and Gate
Vocal Assistant listens to your audio, then detects and makes corrections automatically
Unmask positions vocals front and center by moving other mix elements out of the way
Key Detection saves time by learning the key of your vocal
Melodyne 4 essential offers powerful pitch and time correction
iZotope RX Breath Control automatically suppresses breaths in dialog or vocal recordings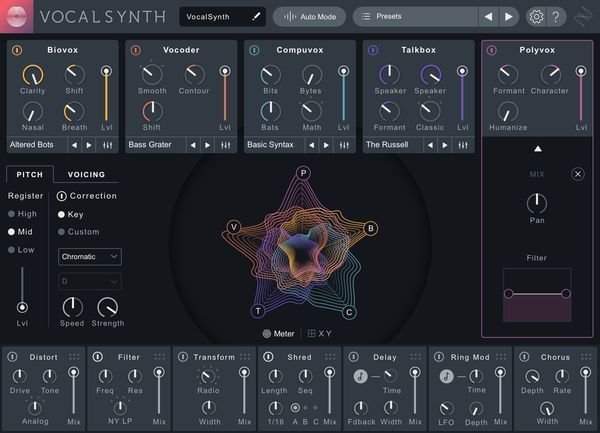 iZotope VocalSynth 2
Vocal Multi-effects Plug-in
Want to establish your own signature vocal sound? With five powerful vocal engines onboard, VocalSynth 2 is what you need to get the job done. Manipulate a vocal's nasality, vowel shapes, and formant using VocalSynth 2's Biovox tool. Enhance your production with quality stompbox-style vocal effects. Three modes of operation give you an incredible level of flexibility. You also get tons of presets to help you get up and running fast. VocalSynth 2 features inter-plug-in communication with iZotope's Neutron, Ozone, Tonal Balance Control, and more. The engineers here at Sweetwater have found a zillion uses for VocalSynth 2.
Melodyne 4 essential supplies transparent pitch and time adjustments
Included with Nectar 3 is Celemony's popular Melodyne 4 essential. With it, you get Melodyne's main tools for pitch and timing correction. Nudge notes until their timing is just right, and tweak the pitch of notes while maintaining a natural-sounding mix. Mix engineers have counted on Melodyne for years to ensure less-than-perfect takes can make the final mix, and now, thanks to the inclusion of Melodyne 4 essential, Nectar 3 users can too.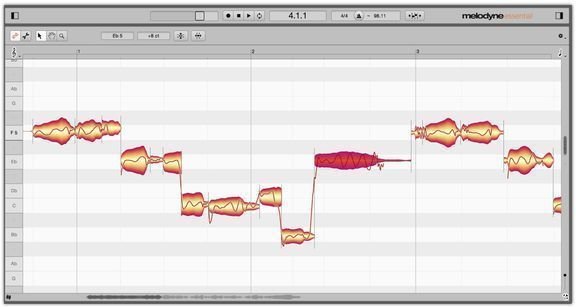 Features:
5 powerful vocal engines for sculpting unique signature vocal sounds
Biovox manipulates a vocal's nasality, vowel shapes, and formant
Quality stompbox-style vocal effects for enhancing your production
Pitch correction preserves original vocal formants and timbre
Automatic, MIDI, and Sidechain generation capabilities
Presets quickly access the sounds of legendary vocal production techniques