Description
Feature Packed Digital/Analog Mixer for Live Sound and Studio Recording
The StudioLive AR12c from PreSonus is a hybrid digital/analog mixer that's built for today's creators. This mixer is compact enough to be taken on the road, yet offers a wide range of input options to fit any performer's needs. And it's bursting with features such as onboard effects, Stereo SD recording, and a Stereo Super Channel that lets you take total control over your sound. When you use it as an interface, this impressive mixer plugs into your computer with an included USB-C cable. You can record each of the inputs and the main mix for more flexible recording options. As if that's not enough bang for your buck, you'll also receive free software that turns your laptop into a fully-featured production powerhouse. Whether you're uploading your band's latest live performance or your brand new interview, the AR12c will blow you away with its unmatched value and easy operation.
Use Stereo SD to record your performances without a computer
Audio professionals all around Sweetwater agree that the AR12c is absolutely perfect for performers who regularly gig at small venues. The mixer isn't just compact and perfectly portable, it's easy to set up and offers performers the option to record their performances onboard the mixer. You read that right. You can record your live performances without the need for any external hardware. So if you're battle testing your newest stand-up routine, performing high-octane sets, or performing interviews, the AR12c will store it all for easy retrieval. This mixer supports SD and SDHC formats up to 32GB in size.

Get more out of your mixer with Super Channel
Super Channel is a completely unique concept that takes this mixer to the next level. Super Channel easily handles four stereo sources at once and can integrate your consumer devices into the mix. It has inputs for RCA, 1/8″ stereo, and Bluetooth 5.0. This lets you play stereo audio from the onboard SD recorder or from a USB-connected Mac or Windows PC. And between acts at the venue, you can stream music wirelessly with Bluetooth 5.0 technology. With you at the controls, there's really nothing that Super Channel can't do.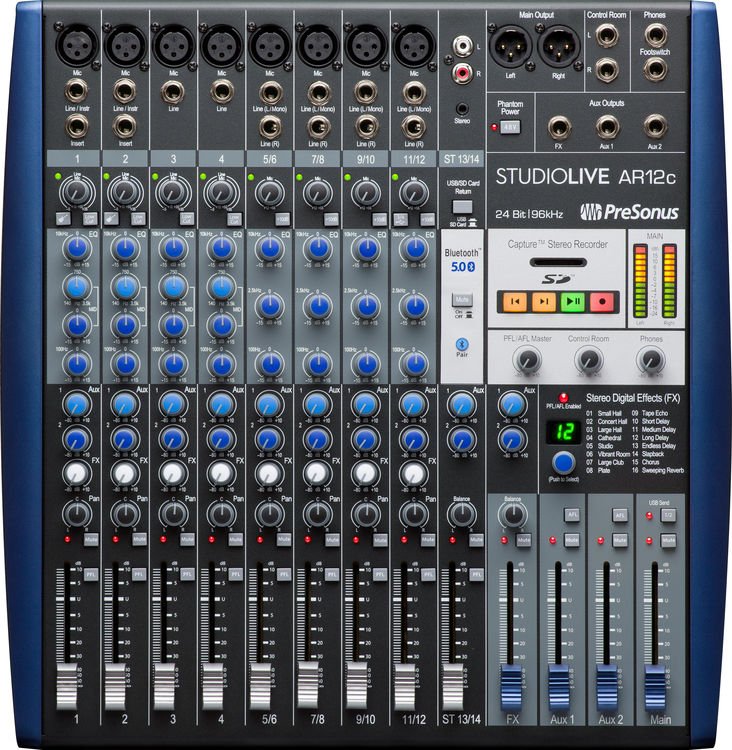 Superior signal processing with StudioLive's channel strips
The channel strips on the StudioLive AR12c are built to help you create your best recordings to date. On the mono channels, the 3-band quasi-parametric EQ has a sweepable mid-band. Each stereo channel has a 3-band semi-parametric EQ and a mic/line boost for low-level input sources and consumer devices. What's more, each channel is equipped with a highpass filter. The AR12c has an onboard stereo effects processor with 16 presets, a dedicated send and return, and a bypass footswitch jack. You can apply the effects to your signal in real-time with no annoying latency issues.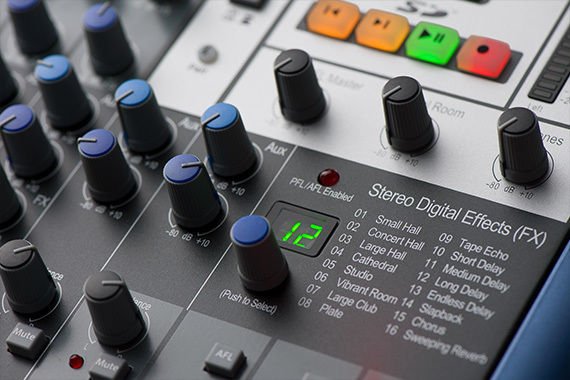 Includes powerful software effects for home recording
In addition to its impressive hardware capabilities, the PreSonus StudioLive AR12c also includes all the software you need to record with your computer via USB-C. It includes Capture live-recording software, Studio One Artist production software, and the Studio Magic Plug-in Suite. The AR12c is capable of recording every channel plus the main mix in crystal clear 24-bit/96kHz audio resolution. Once you import your performance into Studio One Artist, use Studio Magic to add professional-quality effects and processing. You can even add drums and synths, add compression, and refine your EQ to create incredible recordings your fans will love.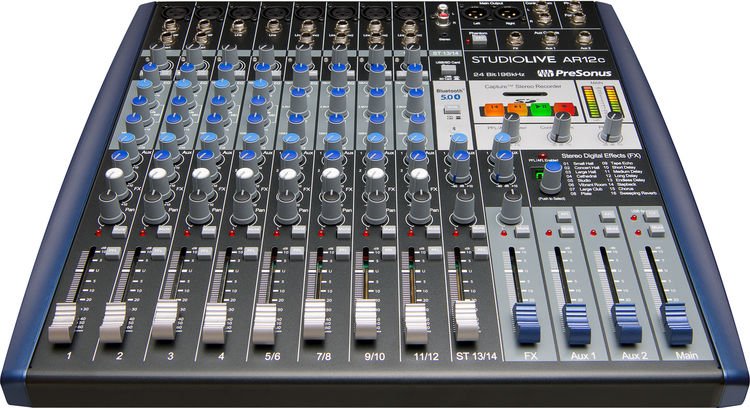 PreSonus StudioLive AR12c Hybrid Digital/Analog Mixer Features:
Perfect for acts playing small venues, podcasters, and home studio users
12-channel analog mixer is perfectly sized for bands
Doubles as a 14-in/4-out USB audio interface that records each channel plus the main mix
Stereo SD recorder allows you to record full-band performances and interviews with onboard SD or SDHC card
Super Channel integrates consumer devices into your mix
Bluetooth 5.0 connectivity allows you to stream music from any smart device
Apply built-in stereo effects with zero latency
Included software helps you create professional-sounding mixes