Description
Drum Replacement Plug-in of the Pros!
Steven Slate Drums Trigger 2 Platinum is not only the drum-replacement software of choice for pro producers Chris Lord-Alge, Mike Shipley, and Dave Way, but its included sample library means you may never need to reach for third-party libraries again. With one instance of this nearly universal plug-in on your drum track, you can trigger up to eight stereo samples at once — all with freakishly accurate phase alignment. This means tougher toms, beefier kick drums, and more penetrating snares, all without affecting the balance of your kit mics. Trigger 2 Platinum's unique Leakage Suppression function ensures absolutely precise sample triggering, easily separating ghost notes from mic bleed. And with a dedicated host, Steven Slate Drums Trigger 2 Platinum doubles as a totally responsive live drum module for your electronic drum kit.
Multisample triggering provides detailed, customizable sound
Steven Slate Drums Trigger 2 Platinum's multilayered engine lets you get the most out of one instance of the plug-in by triggering up to eight stereo samples simultaneously. That means you can trigger a close-miked sample, a stereo room sample, and a stereo overhead sample — all right from the same drum track to get the perfect blend of direct and ambient sound. And each sample layer lets you customize velocity, dynamic control, independent levels, sustain, and more. Trigger 2 Platinum even features positional sensing, a visual hit detector, and 127 different articulations per sample layer, providing you with great-sounding, tight, sample-accurate drum tracks.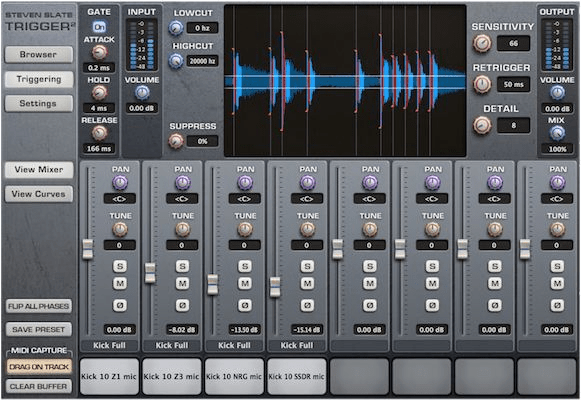 Precision studio drum replacement and live sample triggering
Armed with two detection modes, three latency modes, MIDI control capability, and a brilliant Leakage Suppression mode, Trigger 2 Platinum is more than capable of handling both studio drum-replacement work and live sample triggering alike. In its highly accurate higher latency setups, Trigger 2 Platinum provides you with phase-accurate drum triggering free of unwanted mistriggers, flamming, or phasing. And with latency as low as 4ms, Live Mode lets you tap into Trigger 2 Platinum's amazing sound library for real-time performances.
Slate's Platinum instrument library gives you a warehouse of top-shelf drum sounds
No matter what kind of music you come up against, Slate Digital Trigger 2 Platinum has the drum sounds you need. That's because Slate packed Trigger 2 Platinum with their complete Platinum instruments library, which includes sounds from 46 snare drums, 33 kick drums, and eight sets of toms. Each of these instruments includes hundreds of individual 24-bit samples to provide you with realistic expression and dynamic range, and the selection of deluxe instruments includes up to 12 alternation hits per velocity level. And thanks to the Trigger lossless sample compression, the entire Trigger 2 Platinum drum library takes up only a little over 2GB.
Steven Slate Drums Trigger 2 Platinum Drum-replacement/Triggering Plug-in Features:
The premier multi-platform drum-replacement software trusted by producers Chris Lord-Alge, Mike Shipley, and Dave Way
Phase-accurate drum replacement ensures full and consistent sample triggering
Each instance can trigger 8 stereo samples with up to 127 different articulations and velocity layers and up to 127 alternation hits per velocity layer
Multimode functionality and various latency settings provide options for both studio and live applications
Leakage Suppression blocks out false triggers while allowing the accurate expression of ghost notes
AMG humanization algorithm lets you dial in unbelievable realism
All drum samples tracked to 2″ tape, using first-class gear at NRG Recording in North Hollywood, California
Compatible with both 32-bit and 64-bit AAX, VST, AU, or RTAS plug-in hosts on Mac or Windows PCs
iLok required for authorization (not included)
Includes Samples from Steven Slate Drums Platinum
Steven Slate Drums Platinum Samples Features:
46 snares (including 2 high-detailed Deluxe snares)
Deluxe snares include adjustable overheads and 12 alternation hits per velocity
33 kick drums (including 2 Deluxe kick drums)
8 sets of toms