Description
Symphony AD/DA in a Desktop Interface
The Symphony Desktop packs Apogee's flagship AD/DA conversion into a desktop interface, along with hyper-realistic preamp emulations and powerful DSP. Experience industry-leading digital sound quality at up to 24-bit/192kHz, while cutting-edge analog components ensure clean, low-distortion results. Track through Apogee's Alloy Mic Preamp emulations to add grit and character right at the source. Juice up your tracks with Apogee FX plug-ins, powered either by the interface's built-in DSP or natively within your DAW, in a myriad of flexible, low-latency workflows. An array of analog and digital I/O options makes integrating this interface with your studio a breeze, while a dynamic touchscreen display supplies intuitive operation right from your desktop. You can also take full command from directly within Apple's Logic Pro X software, giving you what's possibly the most streamlined DAW workflow on the planet. This incredible interface comes with the Bob Clearmountain-tweaked ESC Channel Strip plug-in, along with the Symphony Reverb native plug-in. In a nutshell, the Symphony Desktop gives you Symphony I/O-grade performance in a DSP-enhanced unit that fits on your desktop. If you want to elevate your studio into the big leagues, this is a great way to do it.
Symphony AD/DA — cutting-edge components for unrivaled sound
The Symphony Desktop boasts Apogee's legendary AD/DA conversion, which is regarded as the reference standard by many within the pro audio industry. Like its rackmount forerunner, this audio interface's A/D converter stage yields ultra-low distortion, a high slew rate, and fully differential analog op-amps, along with a leading-edge A/D converter in a performance-enhancing dual-sum configuration. Thanks to this superior design, you'll capture every source with hyper-realistic quality and transfer it flawlessly into your DAW. The Symphony Desktop's D/A converter stage is just as impressive, yielding uncompromising results via an ultra-low-distortion, high-current output driver. Whether you're mixing, mastering, or listening critically, the Symphony Desktop will provide a transparent window into your project. Apogee conversion has long been a gold standard here at Sweetwater, and the company's Symphony AD/DA is their best design yet. Once you experience it, you'll never settle for anything less.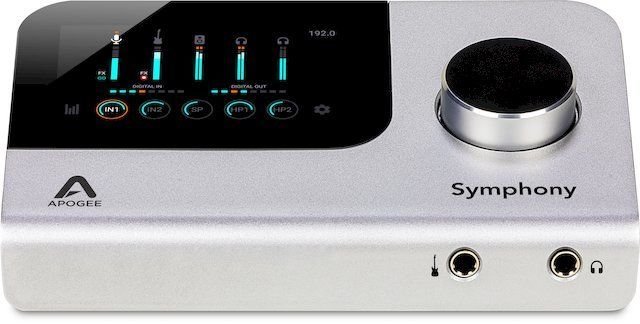 Apogee's mic preamps deliver superior performance with any source
Apogee's world-class AD/DA conversion often steals the spotlight away from the company's incredible analog designs. But truth be told, their preamps have always delivered mind-blowing results. In fact, renowned audio engineer Bob Clearmountain has stated that Apogee preamps are his all-time favorites. After all, top-shelf conversion doesn't add up to much if it's paired with subpar analog circuits — the analog stages are what make the converters sound so good! The Symphony Desktop's mic preamps continue in that tradition. Their Advanced Stepped Gain Architecture ensures clean, low-distortion results, while up to 75dB of gain gives you enough breathing room to capture everything from a pounding kick drum to delicate acoustic fingerpicking. To top it off, variable impedance settings on both mic and instrument inputs optimize their input stage to match your specific device, yielding ultra-deep lows and crystal-clear highs.

Alloy Mic Preamp emulation adds grit and character to your recordings
Sometimes you want to add grit and character to your recordings — attitude, if you will. That's where the Symphony Desktop's Alloy Mic Preamp emulations come in. AMP employs both analog circuitry and digital processing to create some of the most authentic modeling on the planet. The detail that goes into this remarkable technology is astonishing. It models every critical aspect of the signal path, starting with input impedance, transient profile, and distortion characteristics in the analog domain, followed by a bit of digital refinement, delivering a hybrid result that's much greater than the sum of its parts. The Symphony Desktop gives you the choice of a Solid State Class A sound inspired by a legendary British console and a gently overcooked American tube sound. Both emulations are spot on, responding realistically if you push them, just like their analog counterparts.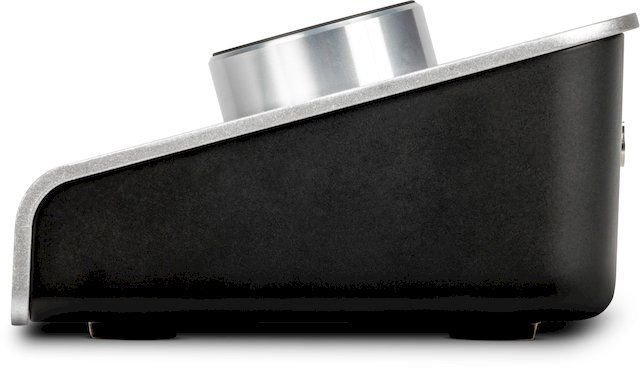 Apogee FX plug-ins add a pro-level sheen to your tracks
If you've never tried Apogee's New Plugins, you're missing out on a good thing. Obsessively crafted by the same team that designs all Apogee hardware and software products, there's a reason why they've garnered heaps of praise by reviewers and by users on internet forums — they're that good. The Symphony Desktop comes with Apogee's ESC Channel Strip plug-in, which includes superb-sounding EQ, compression, and saturation, all tuned to perfection by Bob Clearmountain. ESC Channel Strip works in tandem with the audio interface's microphone preamp emulations, arming you with a virtual rack full of sonic colors. The Apogee Symphony also includes the Symphony Reverb native plug-in.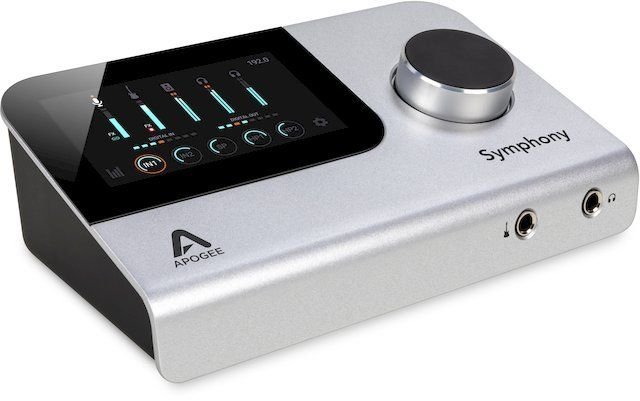 A full range of low-latency workflow options for maximum flexibility
Apogee's plug-ins provide you with a full range of low-latency workflow options while you're recording. Native mode allows you to run plug-ins natively in your DAW. Just instantiate the plug-in, adjust your buffer, and you're ready to go — it's the easiest way to get a sound without printing an effect. Print mode enables zero-latency recording directly to your DAW through the Symphony Desktop's hardware DSP. This workflow is similar to tracking through external hardware, thereby printing the effect to tape. After all, there's nothing like getting it right at the source! The last option is Apogee's DualPath Link. This method gives you maximum flexibility, letting you dial in an inspiring sound — latency-free — without printing the effect. That said, DualPath saves your plug-in settings, giving you the option of adjusting the effect parameters later during the mixing phase. If you're an Apple Logic Pro X user, you'll enjoy the ultimate DualPath experience, thanks to unique hardware-software integration. Using the Symphony Desktop and Logic Pro X in tandem lets you take full command of the interface within a single window in the DAW — no additional mixer or console app required. It's one of the most streamlined workflows available.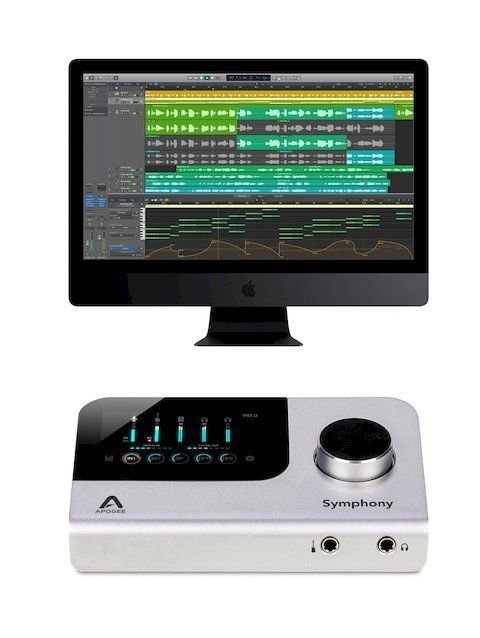 Apogee Symphony Desktop Features:
10-in/14-out desktop USB-C audio interface
Symphony AD/DA conversion yields hyper-realistic sound quality at up to 24-bit/192kHz
2 mic preamps with Advanced Stepped Gain Architecture and up to 75dB of gain ensure clean, low-distortion results
Variable impedance settings on both mic and instrument inputs optimize their input stage to match your specific device
Alloy Mic Preamp emulation employs analog circuitry and digital processing to give you ultra-authentic modeling
Run Apogee FX plug-ins (sold separately) via built-in DSP or natively within your DAW
Native, Print, and DualPath modes provide flexible recording, monitoring, and processing workflows
Comes with Apogee's ESC Channel Strip plug-in with superb-sounding EQ, compression, and saturation
Included ESC Channel Strip plug-in works in tandem with the microphone preamp emulations, arming you with a range of sonic colors
Also includes Symphony Reverb native plug-in
An array of analog and digital I/O options makes integration with your studio a breeze
Dynamic touchscreen display supplies intuitive operation right from your desktop
Unique hardware-software integration with Apple Logic Pro X gives you an incredibly streamlined workflow