Description
An Ultra-powerful Studio Desktop System
Turbocharge your studio with this Avid MTRX Studio desktop system. It all starts with Pro Tools | Ultimate — the industry-standard DAW. This bundle also includes an HDX Core PCIe card — the heart of any DSP-accelerated Pro Tools system. An ultra-versatile MTRX Studio audio interface supplies you with self-contained I/O, monitoring, and routing optimized for music and post-production facilities of all sizes. Finally, an HDX Thunderbolt Desktop chassis enables you to use this industry-standard system without being tied to a PCIe-equipped computer. The Avid Pro Tools | HDX Thunderbolt 3 MTRX Studio Desktop System includes a Thunderbolt 3 cable.
Pro Tools | Ultimate
Pro Tools is the industry-standard software production platform; however, if you want to use what major recording studios and broadcast-grade video post-production houses are using, you need to step up to Pro Tools | Ultimate. In addition to the standard Pro Tools features, you get up to 384 audio tracks (50% more than previous versions), as well as 7.1 surround, Atmos, and Ambisonics support, access to advanced editing functions, superior delay compensation, and expanded video implementation. In addition to that, you get support for advanced S6 features like waveform views, breakpoint automation views, and higher-level automation features. Complete with MacOS Mojave support, Pro Tools | Ultimate is the most state-of-the-art professional recording system on the planet.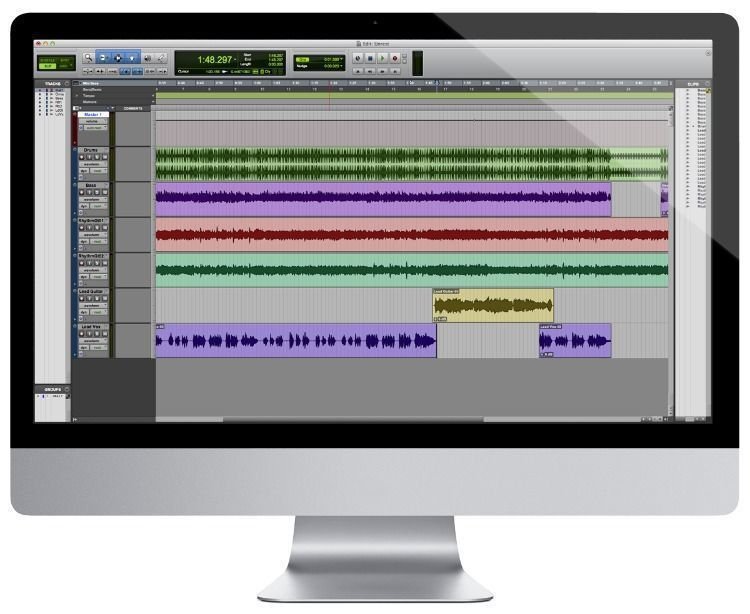 Features:
Industry-standard digital audio workstation (DAW) software for Mac and PC
Interact with and make updates to tracks and timeline selections during playback without interruption
Supports Ambisonics full-sphere surround sound — perfect for video game design and VR Audio
Supports up to 1,024 MIDI tracks — that's double that of earlier versions
MIDI Input Display shows notes and chords as you play them on a MIDI controller
MIDI merge enhancements include seamless merging of newly performed and existing MIDI CC automation
MIDI clips turn red during recording, blurring the distinction between MIDI and audio
Use the left and right arrow keys to move to the next or previous MIDI note for super-fast MIDI editing
Name field in the New Track dialog makes naming tracks faster than ever
Scroll to Track allows you to identify a track by name and scroll to it
Batch Rename command for Tracks and Clips
64-bit architecture unlocks serious processing power and massive session handling
Powerful audio engine provides superior memory management
Complete Dolby Atmos integration for mixing object-based audio
Apply nondestructive EQ, filtering, and dynamics processing with clip-based effects
Use Pro Tools | HDX in any punch mode, and it will calibrate and time-align your stems
Track Commit and Track Freeze free up system resources during intense sessions
Improved waveform visualization powers you through big projects
Layered Editing prevents you from losing overlapped clips while editing
Real-time fade manipulation for creating quick crossfades
Send fully overlapped clips to a or existing playlist while editing and/or while recording
Grid Toggle function makes flipping between Grid and Slip modes easy
Tandem Trimming enables trimming the start and end of two adjacent clips simultaneously
Clip Overwrite Indicator alerts you when you move an audio clip so that it fully overlaps a smaller off-screen clip
Soundbase uses tags to make locating audio files and loops easy
Faster-than-real-time bounce to disk streamlines your workflow and frees up resources
Unified Media Engine natively supports multiple HD video formats
Smooth collaboration with Avid Media Composer and other media-production workflows
Workspace Browser makes project navigation extremely fast and incredibly simple
Simple keyboard commands let you quickly disable and enable sends and inserts
Capture automation while recording audio
Utilize up to 384 tracks with the software alone (50% more than previous versions) and up to 1,152 voices by adding native voice packs or HDX cards
Take advantage of over 60 bundled 64-bit plug-in processors, effects, and virtual instruments
Automatic delay compensation provides tight mixing with minimal phase issues
Multitrack Beat Detective and Elastic Audio let you correct timing across all your tracks
Score Editor and MIDI Editor provide comprehensive composing capabilities
Mix various audio file types and formats in a single session without format conversion
Create flawless performances using simple track compositing functions
Clip Gain provides dynamic volume flexibility and increases integration with Media Composer
Mute and Solo visual indicators and Bus Interrogation provide a clear view of signal flow
Full support for Artist Series and other EUCON-equipped control surfaces
Low-latency monitoring with Core Audio and ASIO hardware delivers smoother tracking
Read/record from flash drives, RAID systems, network-attached drives, and server storage
Functions such as Export Selected Tracks as Session make collaboration easy
OMF/AAF/MXF interchange support included
Export support for MP3 files, iTunes, and SoundCloud also included
Full time-code support with feet and frames rulers and 24-hour timeline support
Mix in everything from mono to 7.1 surround sound
Avid Cloud Collaboration and the Avid Marketplace let you connect and collaborate
1 year of software updates, ExpertPlus Support, Avid's Complete Plug-in Bundle, and MachineControl
Support for macOS Mojave (10.14)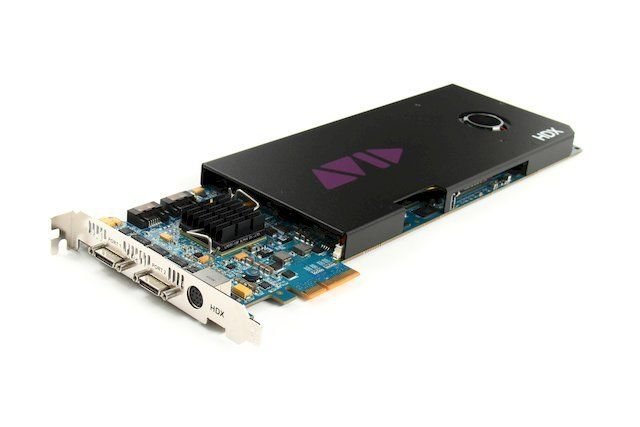 Pro Tools | HDX Core
At Sweetwater, we're still amazed at how powerful these cards are. Each Pro Tools | HDX Core PCIe card is like having about the equivalent of an HD3 or HD4 system on a single card. To put it mildly, that's a ton of DSP power for your DAW! What's more, there's a separate FPGA processor for your mix bus, so all of your HDX card's DSP power is dedicated to running plug-ins. Each HDX card gives you 256 voices, a full four times the routing capacity of an Accel card. That means you can freely use Avid's AAX plug-ins, without worrying about running out of voices.
Features:
Incredible DSP power for Avid's AAX plug-in format
3-7 times the power of an HD Accel system on a single PCIe card
FPGA mix processor frees up DSP for powering plug-ins
Up to 256 voiceable tracks per card
Up to 64 channels of simultaneous I/O per card
Connect up to 4 HD interfaces per card
64-bit floating-point summing sounds amazing
32-bit floating-point processing between plug-ins preserves quality and dramatically increases headroom
Expand your system by adding more HDX cards
Compatible with Pro Tools | Ultimate software
MTRX Studio
The Avid Pro Tools | MTRX Studio is a versatile, self-contained I/O, monitoring, and routing unit optimized for music and post-production facilities of all sizes. Packing Dante, DigiLink, and ADAT connectivity, MTRX Studio packs tons of functionality in a compact form factor and consolidates multiple devices in your signal chain. From recording and monitoring to networking audio across multiple rooms and devices, tuning your speakers and saving monitor profiles, and folding down multichannel mixes, the Avid Pro Tools | MTRX Studio makes a perfect centerpiece for your studio.

Features:
Audio Interface for Pro Tools HDX
Boasts self-contained I/O, monitoring, and routing unit optimized for music and post-production
Includes Dante, DigiLink, and ADAT connectivity
Consolidates multiple devices in your signal chain
Tackles recording and monitoring for tracking, mixing, and mastering
Enables networking audio across multiple rooms and devices
Tune speakers, save monitor profiles, and fold down multichannel mixes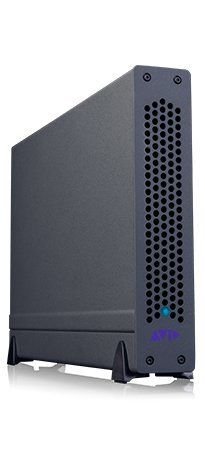 HDX Thunderbolt 3 Desktop Chassis
Built in partnership with Sonnet, the Avid HDX Thunderbolt Desktop chassis brings the power of Pro Tools | HDX to your desktop. This chassis holds a single HDX card for connection to your Thunderbolt-equipped Mac or PC, enabling you to use Avid's industry-standard DSP-accelerated system with computers that lack a PCIe slot. Engineers everywhere appreciate the Avid Pro Tools | HDX Thunderbolt 3 Desktop Chassis. Finally — we can run our HDX systems without being tied to a PCIe-equipped computer!
Features:
Built in partnership with Sonnet
Convenient desktop form factor
Holds a single HDX card for connection to your Thunderbolt-equipped Mac or PC
Enables you to use Avid's industry-standard DSP-accelerated system with computers that lack a PCIe slot