Description
Your Go-to Sound-shaping Tool
FabFilter Pro-Q 3 is destined to become your go-to sound-shaping tool. This 24-band dynamic equalizer enables subtle tweaks and extreme frequency sculpting alike, with both analog-like Natural Phase and digital-precise Linear Phase modes. Make snare drums crack, add brilliance to vocals, or even match the EQ curve of one track to another. You also get an endless array of filter shapes, Mid-Side and Left-Right processing modes, and Dolby Atmos support. Complete with Auto Gain mode, Pro-Q 3 may be the last EQ plug-in you'll ever need.
Build a killer mix with practical new features
Building a top-drawer mix with Pro-Q 3 is easy, thanks to its practical new features. Benefit from Dolby Atmos support, with intelligent per-band speaker selection. Eliminate unwanted frequencies with a brickwall LP/HP filter slope. You also get a Flat Tilt filter shape. Carving out sonic space is a piece of cake with Pro-Q 3 — its upgraded spectrum analyzer boasts frequency collision indication, while an overhauled Spectrum Grab function includes labels for locating critical peaks. Improved EQ Match allows you to match with a post spectrum from another Pro-Q 3 instance in your session. Beyond that, Auto Gain now includes channel weighting and an estimated dynamic gain correction, resulting in better overall gain adjustment.
This EQ can sound transparent or analog-like
In addition to the ultra-transparent Linear Phase mode on the FabFilter Pro-Q 3 plug-in, you'll find a Natural Phase mode which has an undeniably analog vibe to it. Natural Phase mode matches the magnitude response and phase response of an analog equalizer, without unwanted audible artifacts. Digital EQs start showing their true colors when you start boosting heavily, and that's where Pro-Q 3 is most impressive.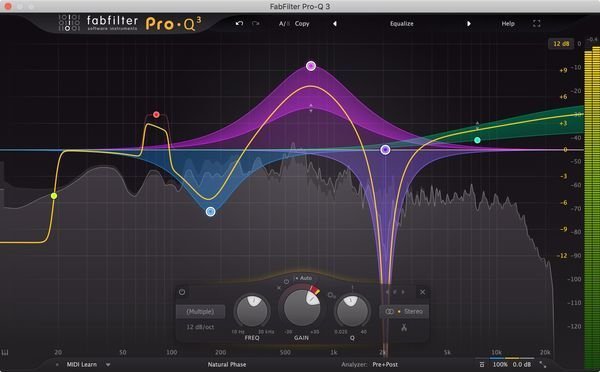 Piano Roll display makes musical mixing easier than ever
Mix engineers at Sweetwater know that where you set your EQ frequencies makes a huge impact on your mix. If you're cutting a frequency that falls close to the key of the song you're mixing, you'll notice a drop in energy and excitement and may not know why. The Piano Roll view in Pro-Q 3 shows you at a glance what note range you're working in, allowing you to make more musical EQ choices and better-sounding mixes.
Auto Gain mode makes mixing smoother and easier
When you're making heavy boosts or cuts to an EQ, you're altering the overall volume level of that track. The Auto Gain mode in the FabFilter Pro-Q 3 plug-in compensates the main output based on how you're boosting or cutting. When you need to make an EQ tweak after your basic mix levels have been set, you can do so without upsetting the overall balance of your mix. Pro-Q 3's Auto Gain mode also boasts channel weighting and an estimated dynamic gain correction, resulting in better overall gain adjustment.
FabFilter Pro-Q 3 Plug-in Features:
Comprehensive EQ and filter plug-in
Dolby Atmos support with intelligent per-band speaker selection
Brickwall LP/HP filter slope aggressively eliminates unwanted frequencies
Frequency collision indication makes carving out sonic space a breeze
Overhauled Spectrum Grab function includes labels for locating critical peaks
Auto Gain includes channel weighting and an estimated dynamic gain correction
Wide range of filter types includes Bell, Notch, High/Low Shelf, High/Low Cut, Band Pass, Tilt Shelf, and Flat Tilt
EQ Match allows you to match with a post spectrum from another Pro-Q 3 instance in your session
Per-band Mid-Side and Left-Right modes allow you to EQ your mix with more precision
Improved EQ band menu with Make Dynamic, Invert Gain, and more
Select between transparent operation in Linear Phase mode or analog-like sound with Natural Phase mode
Ideal for tracking or live use thanks to Zero Latency mode
Incredibly precise control over your audio with up to 24 EQ bands
Select frequencies based on musical note values with the Piano Roll view
All filter types have a maximum slope up to 96dB per octave