Description
Elegant 8-channel Network Solution with Redundancy
Focusrite's RedNet A8R audio network interface connects to your studio's network with a single Ethernet cable. And it sounds superb, thanks to top-shelf AD/DA conversion, premium analog circuitry, and jitter-eliminating JetPLL technology. Experience non-existent latency. Benefit from 119dB of dynamic range at 24-bit/192kHz. Enjoy the robust connectivity supplied by eight channels of analog I/O and the expandable power of Dante audio networking. The Focusrite RedNet A8R audio network interface also boasts network and power supply redundancy for maximum reliability.
What you get…
The Focusrite RedNet A8R is a 1RU Dante interface with network and power supply redundancy, offering eight channels of analog input and output with 24-bit/192kHz AD/DA conversion and up to 119dB of dynamic range, plus two channels of AES/EBU I/O to and from your Dante network. Housed in a rugged all-metal enclosure sporting the instantly recognizable red cosmetics seen across the RedNet range, the Focusrite RedNet A8R is ideal for fixed installation in networked audio and communications systems.
The RedNet A8R delivers 24-bit conversion at remotely-selectable sample rates of 44.1, 48, 88.2, 96, 176.4, and 192kHz, and includes pull-up/pull-down functionality. Eight channels of balanced analog audio I/O are provided via DB-25 connectors and internal signals are balanced throughout the unit. You can configure I/O remotely for 0dBFS= +18dBu or +24dBu signal levels. In addition, two channels of AES/EBU I/O are supplied on XLR connectors, with sample rate conversion on the input. The clocking source may be internal, or external via Word Clock or DARS (via the XLR input). The RedNet A8R also outputs Word Clock.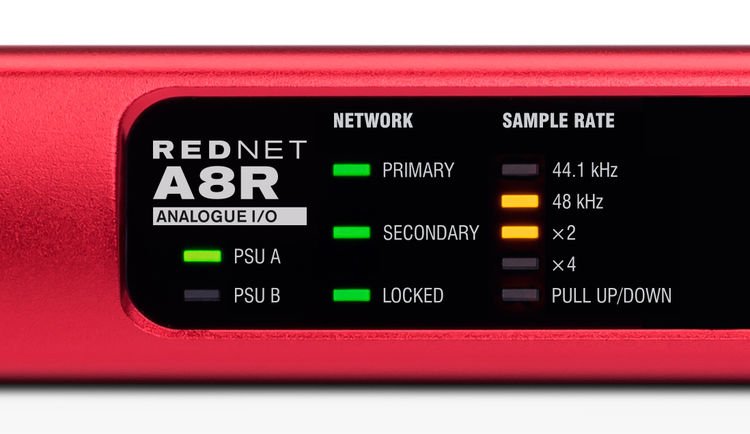 RedNet Control software is flexible and easy to use
Ideal for larger studios or facilities, RedNet's Control software makes simple work of routing, controlling, and configuring interfaces. Numerous functions of a RedNet system can be set including preamp gain, reference level, clock source, preferred master clock, sample rate, and much more. Run it on your main control room computer or your laptop to move around the facility. Anywhere there is an Ethernet connection, you can be in control of the network.

Network and power supply redundancy
Focusrite equipped the RedNet A8R with power and network redundancy with two separate universal (100–240V) PSUs (mains connections are made via two IEC jacks with retaining clips) plus dual network interfaces on locking etherCON connectors (marked Primary and Secondary). You can configure these ports remotely to Redundant or Switched (daisy-chain) mode. Engineers at Sweetwater can confirm the value of redundancy, in terms of both uptime and peace of mind.

RedNet delivers superb audio quality over Ethernet
RedNet is ideal in any environment where pristine audio and extremely low latency over a network are required. Scalable and versatile, RedNet harnesses the simplicity of Ethernet to build audio network systems that range from a small facility with one or two recording spaces to moderate-sized facilities to large studios with multiple recording spaces and control rooms. RedNet is also great for live performance venues such as concert halls, houses of worship, or large spaces like arenas and stadiums.
Dante provides an easy way to deliver digital audio
RedNet uses the Dante protocol to connect to your studio network. Dante (Digital Audio Network Through Ethernet) transmits uncompressed, multichannel digital audio over a standard Ethernet with incredibly low latency. Using Dante is incredibly convenient. Instead of dealing with a bunch of cumbersome analog cables, you use a single Cat 5e or Cat 6 cable. Rather than running analog cable throughout a studio or concert venue, you can utilize the structure's existing Ethernet network. And your interface can be anywhere in the facility. As long as it's connected to the network, you're good to go. Patching and routing are handled by a simple software panel.
Focusrite RedNet A8R Ethernet Audio Network Interface Features:
Reliable, robust digital audio networking for the studio
8 channels of high-quality balanced line-level analog I/O on DB-25 connectors
2 channels of AES/EBU I/O supplied on XLR connectors
Precision 24-bitFocusrite AD/DA conversion up to 192kHz
119dB dynamic range; flat frequency response from 20Hz–20kHz, ±0.15dB
Internally balanced throughout
Remote-controlled Dante-based audio-over-IP connectivity
JetPLL technology provides ultra-low-jitter in all I/O units
Units are hot-swappable, detected and configured automatically upon plugging into power
Redundant power supply and network connectivity
Word Clock I/O and DARS for enhanced flexibility
Front-panel status indicators
Comprehensive RedNet remote control software with user-friendly graphic interface
Soft-startup and auto-muting during sample rate adjustment eliminates audible pops and clicks
3-year warranty