Description
Unsurpassed Tactile Control for Pro Tools
The Avid Pro Tools | Dock integrates with your iPad, extending the Pro Tools | Control iOS app's functionality with transport controls, a jog wheel, and automation controls. A channel fader, color-matched soft keys, and soft knobs round out the Pro Tools | Dock's functionality. You can use the Pro Tools | Dock as a standalone device or in conjunction with your S3, arming you with ergonomic, tactile control over your DAW. Pro Tools | Dock provides many of the center section functions of Avid's class-leading S6 control surface, such as a channel view for editing inserts, sends, pans, and more in a compact form factor.
Mix with your ears, not with your eyes
When you mix in your DAW, it's easy to get distracted by what's on the screen. You end up mixing with your eyes instead of your ears. The Pro Tools | Dock changes all that, thanks to an innovative combination of touchscreen, fader, knob, and switch control. At Sweetwater, we've found that the Pro Tools | Dock increases both speed and precision, allowing us to create better mixes in less time. Beyond that, combining it with a Pro Tools | S3 control surface supplies you with a whole new level of tactile control. You'll never want to mix with a keyboard and mouse again.
Gain S6-like features at a fraction of the price
The Pro Tools | Dock provides you with integrated tactile and touch control similar to Avid's Pro Tools | S6 modular control surface, at a fraction of its price. With the Pro Tools | Dock at the center of your workflow, you'll benefit from powerful touchscreen capabilities, Attention Channel control, and Soft Knob mapping via your iPad and the free Pro Tools | Control iOS app. Beyond that, you can access software key commands, functions, and shortcuts, as well as interact with EQ, dynamics, and other parameters right from the surface.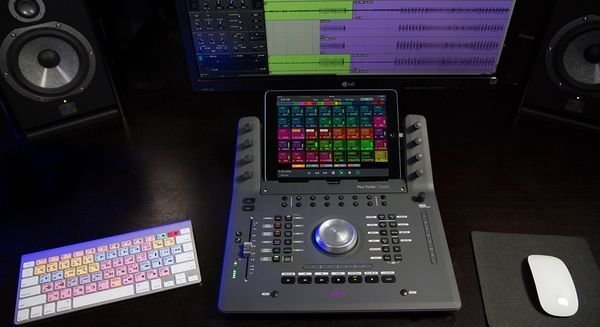 Avid Pro Tools | Dock Features:
Extends the functionality of the FREE Pro Tools | Control iOS app
Provides a mix of a touchscreen and knobs, switches, and faders
Includes transport controls and an aluminum jog wheel
Dedicated automation controls, 16 soft keys, and 2 programmable touch strips
Channel fader provides tactile control over your mix
EUCON-mappable monitor control
8 soft knobs that work with the Pro Tools | Control iPad app much like an S6 master touch module
S6-like channel view for editing inserts, sends, pans, and more
Also works with Logic Pro X, Cubase, and other EUCON-enabled DAWs
Automatically switches its controls to the application in focus on your computer