Description
Precision 24-band EQ with Adaptive Learning
AI has opened new doors in music production that traditional effects never could. Take the Sonible smart:EQ 3 plug-in, for example. At its core, this extremely musical 24-band equalizer effortlessly sculpts and shapes mixes without the deleterious phasing effects common to lesser types of EQs. But what makes the Sonible smart:EQ 3 so much fun and so useful in the studio is its adaptive-learning EQ correction. Just press Learn, feed it some audio, and smart:EQ 3 automatically adjusts for any tonal imbalances in your tracks and mixes. Simple as that! Muddy vocals, boomy kick drums, flat-sounding guitars — these common recording imperfections are a thing of the past with Sonible smart:EQ 3 in your effects tray. Skeptical? Don't be: smart:EQ 3 gives you full control over your EQ curves. You can select which part of the spectrum, and by what degree, smart:EQ 3 is allowed to treat your audio, or just chart in your own custom EQ curves altogether. And thanks to a wide library of profiles for common sources ("Voc Female," "Grand Piano," "Slap Bass," etc.), Sonible smart:EQ 3 will never treat your track differently than a real mix engineer might. You can even create and load custom profiles to tell smart:EQ 3 how to treat future sound optimizations. What's more, smart:EQ 3 has been improved over previous versions with a host of user-inspired features, including cross-channel processing, dynamic adaptation, minimum-phase filtering, and linear-phase filtering. If you're looking for a mix tool that can shave minutes and hours off polishing your final tracks, take Sonible's smart:EQ 3 plug-in for a spin.
Note: smart:EQ 3 requires physical or machine-based iLok authorization. 
Why we dig smart:EQ 3
As mix engineers, most of us would rather spend our time making creative EQ decisions (the problem-solving part of our job) rather than corrective EQ decisions ("Every track in this session has a massive room-mode spike at 369Hz!"). And when it comes to corrective EQ, Sonible smart:EQ 3 is a tool that's worth its weight in gold, so to speak. (Yes, we know software doesn't have weight.) What we especially dig about this EQ is that it eliminates guesswork from the process of getting tracks mix ready. Fatigued ears, poor monitoring, and flat-out inexperience can all make traditional EQs unreliable for even the most seasoned engineers. But process a handful of tracks or stems through smart:EQ 3, and you're well on your way to a finished mix. Of course, results will vary from track to track. But for tracks where a healthy dose of corrective EQ is needed to get audio in the ballpark, Sonible's smart:EQ 3 has all engineers singing its praises.
New features inspired by users
After releasing smart:EQ 2, Sonible solicited feedback from its many users in order to make smart:EQ 3 the most comprehensive version of this groundbreaking EQ yet. As a result, the designers at Sonible spent over 9,000 development hours. This deliberation culminated in four game-changing new features: cross-processing, which enables the AI to calculate corrective EQ according to the interaction between up to six group tracks; upgraded smart:filter technology for instantly creating an optimized spectral balance on isolated tracks; switchable dynamic EQ per band; and minimum-phase and linear-phase filtering for ultimate transparency.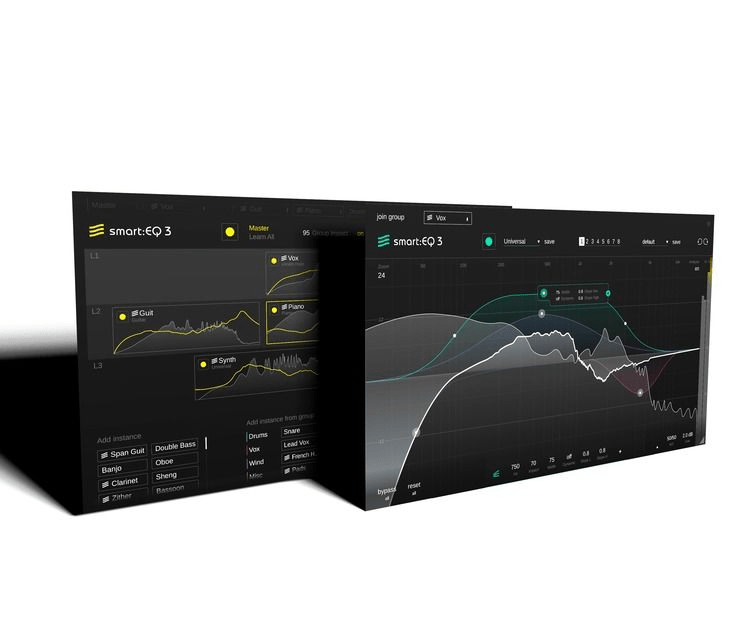 Sonible smart:EQ 3 Plug-in Features:
24-band EQ with adaptive EQ learning
Builds corrective EQ curves using AI
Automatically corrects muddy vocals, boomy kick drums, and flat-sounding guitars
Cross-processing enables the AI to calculate corrective EQ according to the interaction between up to six group tracks
Upgraded smart:filter technology creates an optimized spectral balance on isolated tracks
Switchable dynamic EQ per band
Minimum phase and linear-phase filtering for ultimate transparency
Wide library of source profiles (e.g., "Voc Female," "Grand Piano") point smart:EQ 3 in the right direction
Custom profiles inform smart:EQ 3 how to process future tracks
Dynamic resizable GUI
Modern flat aesthetic
Bypass and Flat switches for quick A/B swaps
Output meter helps prevent clipping and improper gain staging