Description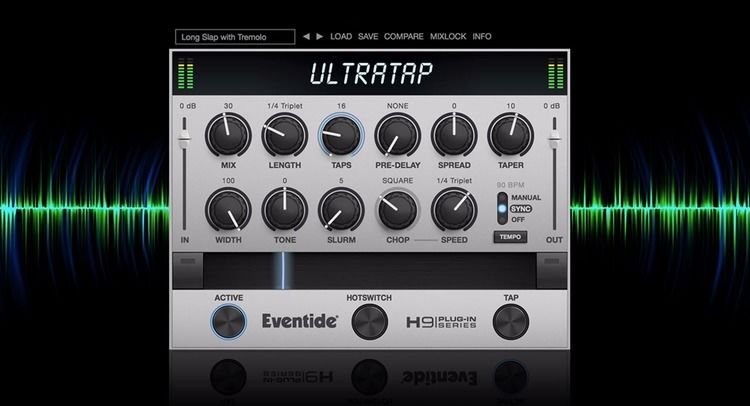 Multi-tap effects that extend beyond echoes
If you want simple multi-tap repeats, UltraTap can do it — but that's just the beginning. Use up to 64 taps to create repeats, then smear them together and modulate them into mystical chorused reverbs using the plug-in's Slurm parameter. Change the rhythmic space between taps with the Spread control, or use the Chop control to generate unusual tremolo effects. You can also use the Width control to modify the stereo image of the taps to alternate from hard-panned to mono, and create drastically changing sounds by assigning the HotSwitch to an alternate version of your current settings. You can even manipulate UltraTap in real time using The Ribbon. At Itec Audio Studios, we're impressed by the sheer number of effects that can be created using UltraTap.
UltraTap — a brief history
The UltraTap algorithm was born in 1982 as a component of the Factory Program Suite included with Eventide's SP 2016. During the late 1980s, musicians and engineers could find the UltraTap algorithm inside of the now-legendary H3000 Ultra-Harmonizer, then later in the DSP4000 Ultra-Harmonizer and H8000 Ultra-Harmonizer. These days, the UltraTap algorithm is one of the highlights of Eventide's popular H9 Harmonizer stompbox, which is present on the pedalboards of guitarists and synth players everywhere.

Eventide UltraTap Features:
Multi-tap effects plug-in with over 150 presets from Chris Carter, Colin Newman, Sasha, and more
Create up to 64 taps with a total time of over 4 seconds and up to 1 second of pre-delay
Use the Slurm parameter to smear repeats together and modulate them into mystical chorused reverbs
Change the rhythmic space between taps with the Spread control to create slow-down and speed-up effects
Employ the Chop control to generate unusual tremolo effects
Utilize the Width control to modify the stereo image of the taps to alternate from hard-panned to mono
Craft drastically changing sounds by assigning the HotSwitch to an alternate version of your current settings
Control the fade of the taps with the Taper parameter
Manipulate effects in real time using The Ribbon
Sync the Length and/or Chop LFO speed to your DAW
Scroll through presets while keeping the wet/dry mix constant using Mix Lock
Use The Ribbon and Tap Tempo to change tempo on the fly during a live performance