Description
Bob Clearmountain's Legendary FX Signal Chain
Bob Clearmountain's mixes have fueled decades of chart-busting hits. And now — thanks to Apogee Clearmountain's Domain — his personalized FX signal chain can be yours. This powerful multi-effects plug-in reproduces the sonic environment of your favorite Clearmountain mixes, using an entire studio's worth of processors — delays, harmonizers, de-essers, EQs, and saturation effects — all tied together with a large-format mixing console. Completely transform your mixes with impulse responses gleaned from Bob's favorite acoustic spaces, including the custom-designed echo chambers in his personal studio. This multifaceted plug-in also includes presets crafted by Bob himself, enabling you to re-create a whole bevy of his classic sounds. Want to nail the Bowie "Let's Dance" snare delay effect? Keith Richards' "Start Me Up" guitar reverb? With Clearmountain's Domain you can — they're only a preset away. If you're bored of tired-sounding reverbs, give your mixes a new space to live in with Clearmountain's Domain.
Load Bob Clearmountain's hardware FX workflow into your DAW
To achieve the cohesive space, expansive dimension, and rich atmosphere that are his trademark, Bob employs a sizeable array of outboard gear, including vintage digital delays, harmonizers, reverbs, de-essers, and EQs. Stereo delay channels crossfeed into one another, while being routed through an echo chamber. The effect is fine-tuned with de-essers and EQs. The resulting ambience is then blurred with a harmonizer. Needless to say, Bob's patchbay looks like a pile of spaghetti. Replicating this complex signal chain in the box is next to impossible, but thanks to Clearmountain's Domain, you won't have to. The sound of countless hit records is available in this one plug-in. And the sound is spot on. When Bob visited Sweetwater to tell us about this plug-in, he related that he used it after one of his vintage digital units stopped working, and the results were indistinguishable from the hardware.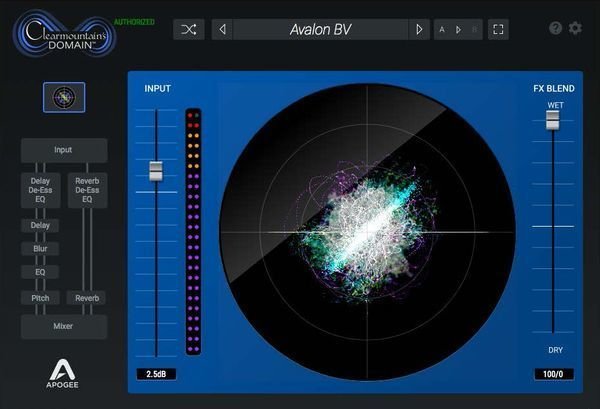 Classic Presets put iconic Clearmountain sounds at your fingertips
Apogee Clearmountain's Domain comes with Classic Presets centered around instruments and processing from Bob's most famous mixes, including David Bowie's "Let's Dance," The Rolling Stones' "Start Me Up," Bruce Springsteen's "Hungry Heart," Bryan Adams' "Run to You," and INXS's "Need You Tonight." So, if you want to re-create any of these timeless sounds, you can do so by loading a preset. And since every parameter is available to you, you can use the presets as a starting point, reverse-engineer them to gain insight into Bob's process, then adapt them to suit your own production style. Of course, you can also eschew the presets entirely and experiment (that's Bob's recommendation — he claims that it's loads of fun).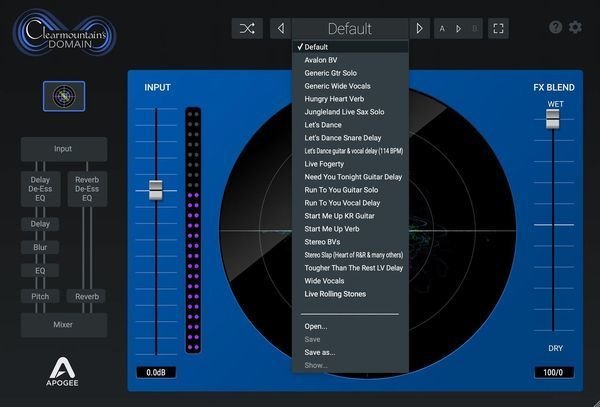 Included presets:
Default
Avalon BV
Generic Guitar Solo
Generic Wide Vocals
Hungry Heart Verb
Jungleland Live Sax Solo
Let's Dance
Let's Dance Snare Delay
Live Fogerty
Live Rolling Stones
Need You Tonight Guitar Delay
Run To You Guitar Solo
Run to You Vocal Delay
Start Me Up KR Guitar
Start Me Up Verb
Stereo Bfs
Stereo Slap (Heart of Rock & Roll)
Tougher Than The Rest LV Delay
Wide Vocals
Custom impulse responses for realistic and unique-sounding reverbs
During the early part of his career, Bob employed physical rooms and chambers, such as the custom-designed echo chambers at his MixThis studios in Los Angeles, to achieve realistic and unique-sounding reverbs. Now — thanks to the magic of convolution technology — these spaces can be accessed anywhere. Clearmountain's Domain comes stocked with impulse responses of Bob's most-used acoustic spaces — the same ones that were used on countless hit mixes — including a stairwell, a couple of bathrooms, an empty concrete room that doubles as an echo chamber, and more.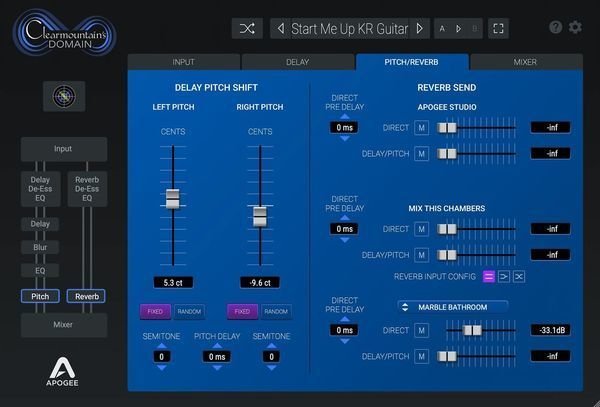 Apogee Clearmountain's Domain Features:
Multi-effects plug-in that emulates Bob Clearmountain's hardware FX workflow
Includes a de-esser, EQ, stereo delay, delay blur, and stereo octave pitch shift
Large-format mixer blends the separate signal paths together to create your perfect effect
Classic Presets centered around instruments and processing from Bob's most famous mixes
Powerful convolution engine with impulse responses of Bob's most-used acoustic spaces
Multi-component vectorscope displays the stereo sound field of the time domain effects
Spin time compensation enables delays with different values to decay at the same time
Tap tempo sets your tempo by clicking quarter notes at the desired tempo
Randomizer sets the selected parameter to a random value — great for livening up your mix
A and B buttons allow you to compare settings with the click of the mouse