Description
Apogee's Most Advanced Conversion
Apogee infused the Symphony I/O MkII 2×6 SE with their most advanced conversion ever. Its analog inputs deliver 124dB of dynamic range and THD+N of -116dB. Beyond that, its analog outputs offer 131dB of dynamic range and an incredible THD+N of -118dB. The Symphony I/O MkII 2×6 SE D/A conversion is eminently transparent — enough for mastering engineers to make critical adjustments with confidence. With the Symphony I/O MkII 2×6 SE, you'll experience every ounce of warmth, punch, and image your recordings and signal processing chain produce, with an ultra-low 1.35mS of latency!
Harness the power and speed of Apogee Thunderbolt
The Symphony I/O MkII 2×6 SE fortifies your studio with the refined power of Apogee's latest state-of-the-art multichannel audio interface for Thunderbolt-based Mac workstations. Whether you work in your personal project studio or a professional recording facility running any native DAW, the Symphony I/O MkII 2×6 SE gives you the flexibility of four base I/O configurations, and you'll have the option to expand your system up to 32 concurrent channels per unit — all with ultra-low 1.35mS latency!

A system that fits your present and future needs
Available in several different configurations, the Symphony I/O MkII SE has you covered, whether you're running a home studio, a project studio, a scoring stage, or a world-class commercial facility. Apogee offers four basic I/O schemes: 2 x 6, 8 x 8, 16 x 16, or 8 x 8 with eight mic preamps. And it's easy to expand your setup as your needs grow. Featuring two module slots, your Symphony I/O MkII SE system can accommodate up to 32 inputs and outputs of A/D and D/A conversion per unit. At Sweetwater, we're impressed with the Symphony I/O MkII SE. Cutting-edge performance and flexibility, and amazing value — exactly what we expect from Apogee.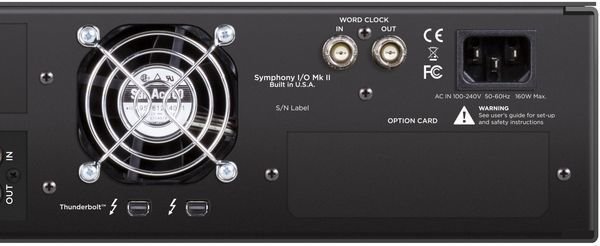 Analog and Digital Inputs:
Analog In 2 balanced inputs on 2 XLRF connectors
AES In stereo input on 1 XLRF connector
Optical In supports ADAT, SMUX, and S/PDIF:
ADAT 8 channels; 44.1kHz–48kHz on 1 TOSlink connector
SMUX 4 channels; 88.2kHz–96kHz on 1 TOSlink connector
S/PDIF 2 channels; up to 96kHz on 1 TOSlink connector
S/PDIF Coaxial In 2 channels; up to 192kHz on 1 RCA connector
Analog and Digital Outputs:
Analog Out 6 balanced outputs on 1 x 25-pin D-Sub connector
AES Out stereo output on 1 XLRM connector
Optical Out supports ADAT, SMUX, and S/PDIF:
ADAT 8 channels; 44.1kHz–48kHz on 1 TOSlink connector
SMUX 4 channels; 88.2kHz–96kHz on 1 TOSlink connector
S/PDIF 2 channels; up to 96kHz on 1 TOSlink connector
S/PDIF Coaxial Out 2 channels; up to 192kHz on 1 RCA connector
Apogee Symphony I/O MkII 2×6 SE Features:
Apogee's most advanced conversion ever
Class-leading AD/DA conversion for Thunderbolt audio interfaces
Analog inputs deliver 124dB of dynamic range and THD+N of -116dB
Analog outputs offer 131dB of dynamic range and THD+N of -118dB
Ultra-low 1.35mS latency
Flexible modular I/O
User-friendly 4.3″ TFT touchscreen display and front-panel controls
Easy to expand your setup as your needs grow
Outstanding per-channel value